Vermont Lodging Association's Second Annual Meeting
Save the Date! VLA will hold its Annual Member Meeting on November 14-16, 2022 at Jay Peak Resort.
Stay tuned for more details!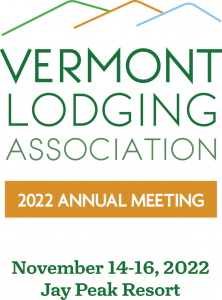 Welcome to the Vermont Lodging Association
The Vermont Lodging Association (VLA) is the only state-wide organization dedicated solely to supporting the Vermont lodging industry. VLA is the voice of lodging in Vermont. Our mission includes retaining a professional and experienced lobbying firm to represent the Vermont lodging industry; serving as the spokesperson for our industry; and providing educational, networking, and other resources to help a diverse membership of licensed Vermont lodging properties succeed.
Join. Get Involved and make your voice heard!
Membership in the Vermont Lodging Association gives you:
A Legislative Voice
The Vermont Lodging Association works hard to protect you! Our professional lobbying firm keeps a strict eye on State legislative and regulatory actions that impact your lodging business. At no time has this been more relevant than during the Covid-crisis. Since the spring of 2020, VLA has worked tirelessly on your behalf to secure Covid relief funding. Learn more about VLA legislative advocacy. We are your lobbyist!
Marketing Tools
Benefit from the Vermont Lodging Association's efforts to protect State marketing funds that bring visitors to our state. Attract users to your individual property through an automatic listing on our searchable Vermont lodging directory.
Connections
VLA is an official state partner of the American Hotel and Lodging Association (AHLA). We closely follow the federal-level advocacy of AHLA and filter through to find the specific nuggets of legislative information that directly impact Vermont lodging. Benefit from the time saved and the peace of mind that you won't miss something important.
VLA has developed relationships with other state associations in the region including Maine and New Hampshire to share policy approaches and other ideas that benefit our industry.
VLA produces a variety of online and in-person networking events designed to connect you with your fellow lodging operators. Visit our Events page.
Our members turn to VLA as a primary source of industry-relevant educational programs.
VLA's online resource library is an ever-growing repository of tools and quick links designed to help you do your job more efficiently. Access Covid-19 relief tools, member discounts, and links to shop our Allied Members.
Membership Questions?
Contact membership@LodgingVT.com or any member of our Board of Directors.
Stay informed: Sign up for lodging advocacy alerts by emailing membership@LodgingVT.com with Advocacy Alerts in the subject line.

Visit Vermont
For travelers planning a Vermont vacation, search our Vermont lodging directory for some of the finest, professionally run lodging establishments in the state. Search by amenities, region, and view seasonal lodging specials.
Shop our Allied Members
Our Allied Members offer the products and services you need to run your business. Support the Allied Members who support our industry. Shop all Allied Members or take a look at the featured Allied Members below.
Gold Allied member

Silver Allied members