---
Events and Education
Events
Advocacy Zooms — Member-to-Member Zooms — Educational Zooms. A series of legislative updates, educational and networking events designed to help your business.
Member Zooms
The schedule of 2021 Member Zoom meetings will be updated regularly, so check back often.
Monday Meetup || All Property Member-to-Member Zoom
Monday, November 15, 2021
Noon – 1 PM
Trey Martin, Chief Strategy Office for Let's Grow Kids, will join VLA to describe the current framework of supports for childcare services in Vermont and share Let's Grow Kids' plans for expanding these services by 2025.
This is a members-only event. Join Now to participate.


---
Small Property Facebook Forum
Small properties can keep the conversation going through our Facebook Forum for small properties with fewer than 50 rooms. The VLA Small Property Forum. This private Facebook group is the perfect place to share information and get connected with your fellow small property operators.
---
Networking Events
As the only organization in Vermont dedicated solely to the Vermont lodging industry, we would be remiss to not hold at least a few social gatherings. After all, hospitality is what our members are all about.
VLA Annual Meeting
Our exciting first Annual VLA Meeting was held in Sept. 6-7, 2021 at the Woodstock Inn & Resort. The two-day event featured:
Monday, September 6, 2021
12:30 p.m.  Golf Networking Tourney
3 p.m on  Registration
6-7:30  Welcome Reception
Tuesday, September 7, 2021
8-9:30a.m.  Registration/Breakfast
10:00-11:30   Legislative Process/Advocacy Panel
   Opening Remarks by Rep. Peter Welch and Senate Pro Tem Becca Balint
12:00-1:30 p.m. Lunch Panel Discussion/Q&A with members of the Governor's Administration
2:00-3:30   Breakout Rooms
Immigration attorney Keith Pabian of Seasonal Connect dove into hotels and resorts' staffing struggles and issues and provide an update on the world of international staffing. E. Scot Fuller-Beatty of ThinkReservations provided an introduction on the benefits of Google Hotel ads which have exploded in our industry over the the last year. Small and medium properties, in particular, are finding great success with these, both financially and as a tool to even playing field against OTAs.
3:45-4:45  VLA Annual Member Meeting (open to all VLA members)
6:00   Reception
7:00   Dinner –
---
Other Events from Sponsors and Friends of the Industry
Winter Preview Grand Tasting at Sugarbush Resort
TUESDAY, OCTOBER 26 1-4 p.m. Gate House Lodge
Farrell Distributing is welcoming some of their top wine and beer suppliers to Sugarbush Resort on October 26. This event will feature 20 tables of wine, beer, and more. Click
here
for more info.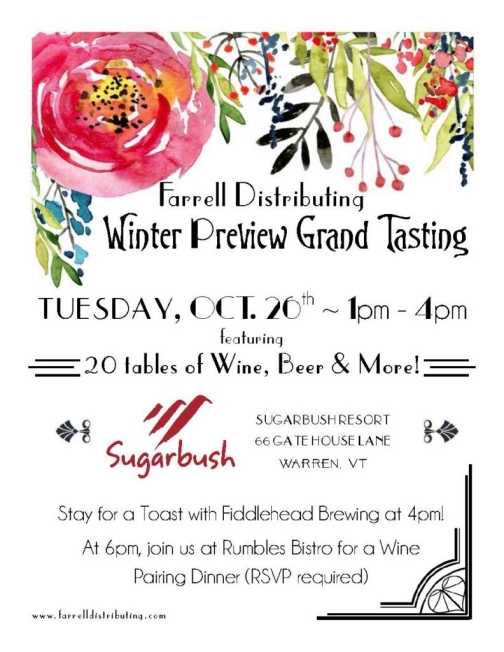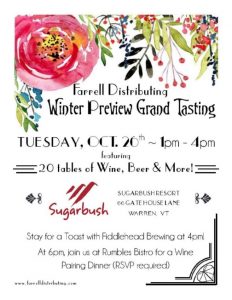 Sugarbush COVID–19 Safety Statement:
Sugarbush is thrilled to be Welcoming Farrell Distributing and their guest for a great event on October 26th, 2021. Please know that we have a top-of-the-line ventilation system in the Gate House Lodge, where the event will be taking place. The space is 5,400 square feet and is very open which helps us provide social distancing and we will have many doors and windows open the day-of, weather permitting. There will be disposable masks available, as well as hand sanitizer available throughout the space. We at Sugarbush Resort do not take the risk of COVID-19 lightly, and our facilities teams have been trained and follow all CDC protocols in cleaning the spaces. If anyone has any additional questions, please feel free to contact our Sugarbush Event Planner, Hailey Wagner, at hwagner@sugarbush.com. She is happy to answer questions about the space and the safety protocols that Sugarbush Resort has in place.
Vermont Tourism Summit
November 17-18, 2021
The 37th Annual Vermont Tourism Summit will be held November 17-18 at the Killington Grand Resort Hotel in Killington, VT. Review the schedule.
The Vermont Tourism Summit draws one of the largest gatherings of tourism professionals in the state including owners, managers, and employees of the many businesses connected to this important segment of the economy. Mingle with other VLA members. Click HERE for info on registration and sponsorship opportunities.
AHLA Lodging On-Demand Series
This AHLA Video Series lets you sit in on digital roundtables where hospitality leaders throughout the country discuss the issues that are most pressing to our industry. Recent topics include "Getting Groups back on the Books", " How Hoteliers can Cut Costs during Covid-19″ or "Re-onboarding Staff after the Pandemic".  Listen on YouTube or subscribe wherever you get your podcasts.
Stay safe — Stay healthy!